Easy Alfredo Sauce recipe that is ideal over pasta or chicken with easy instructions on storing leftover portions.
If you've ever wondered how to make Alfredo Sauce, this recipe is for you!
If you want to turn a bowl of pasta from ordinary to extraordinary, consider making a quick batch of homemade Alfredo Sauce. You might be surprised to see just how easy it is! This alfredo sauce is easy to make, ultra creamy and completely delicious!
Alfredo Sauce
This is a wonderful sauce recipe and one I've been making and enjoying for years! This recipe makes a good amount of sauce and will definitely serve more than one person. If you're cooking for one or two people, you could do like I do and make the sauce to use immediately over a hefty helping of fettuccine and refrigerate the remainder and enjoy it with chicken or shrimp the next evening.
The sauce thickens slightly when refrigerated and can be thinned out with a little cream or milk when you are ready to use it.
Skip the temptation to purchase a jar of pre-made Alfredo Sauce at the store, instead use this easy recipe to make this better-than-store-bought version.
How To Make Alfredo Sauce
The ingredient list is small. All you need is heavy cream, lemon juice, butter, parmesan cheese, salt and nutmeg.
Here's how this easy Alfredo Sauce recipe comes together...
First, pour 2 1/2 cups of the heavy cream into a medium sized pot and add in 1/4 cup of the lemon juice.
Add in 8 tablespoons of butter (1 stick) and cook over a medium heat until the butter melts, stirring occasionally, about 3 minutes.
After the butter melts, lower the heat to low and add in 3 cups of the grated parmesan cheese and a pinch of nutmeg.
Reach into the jar of ground nutmeg and using two fingers "pinch" them together to grab a tiny bit of nutmeg and add it to the Alfredo Sauce. Stir the sauce well and taste it. If it needs a little salt, start out by adding just a touch and add a little more at a time if you find the sauce needs it.
Remove the Alfredo Sauce from the heat and add in your pasta and toss. If you return your pot back to the stove, the sauce will continue to thicken. Don't let it boil.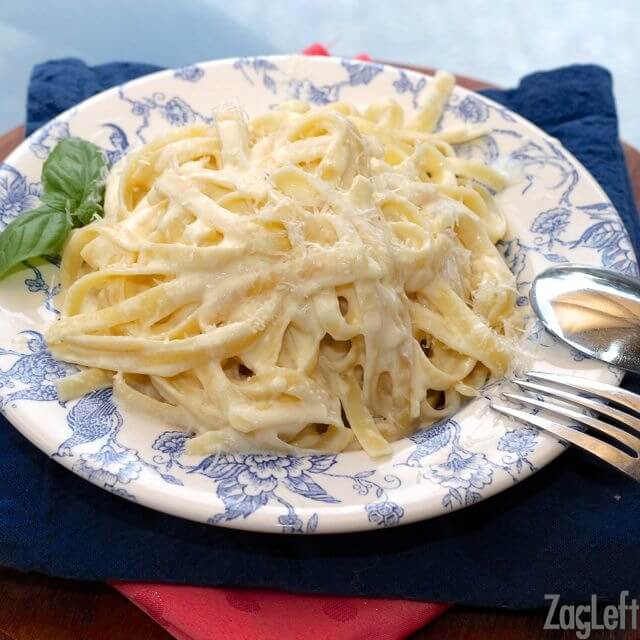 This Alfredo Sauce recipe makes enough sauce for a 16-ounce package of pasta. If you are cooking for one, refrigerate the sauce and it will keep well in the refrigerator for a couple of days.
What To Serve With Alfredo Sauce
Alfredo Sauce Recipe
Print Recipe
How To Make Alfredo Sauce
Easy recipe showing how quickly and easily you can make Homemade Alfredo Sauce. Perfect to serve over pasta and refrigerate the reminder to use over chicken or shrimp.
Servings:
4
to 6 servings
Ingredients
2 1/2

cups

heavy cream

1/4

cup

lemon juice

8

tablespoons

butter

1 stick

3

cups

grated Parmesan cheese

Pinch of ground nutmeg

Salt to taste
Instructions
Stir the cream and the lemon juice in a heavy medium skillet to blend.

Add the butter and cook over medium heat just until the butter melts, stirring occasionally.

Reduce the heat to low and add in the grated Parmesan cheese, nutmeg and salt, stirring until the cheese is melted.

Remove from the heat.

Toss with cooked pasta.

Sprinkle a little more grated parmesan over the top, if desired.
Notes
This recipe for Alfredo Sauce makes enough sauce for a 16-ounce package of pasta. You can divide the recipe in half if you want to make a smaller portion, however the pasta and sauce will keep well in the refrigerator for a few days. To reheat the pasta and alfredo sauce, pour 1 tablespoon of olive oil into a skillet or sauté pan and set the heat to medium. Add the pasta mixed with Alfredo Sauce to the pan and heat, stirring until warm.
With this easy recipe, you can make Alfredo Sauce whenever you like. You can serve it with any type of pasta. The sauce also goes well with chicken or on an Alfredo topped pizza.
The information shown is an estimate provided by an online nutrition calculator. It should not be considered a substitute for a professional nutritionist's advice.