This wonderful Mini Apple Fritter Monkey Bread is easily made with refrigerator biscuits, chopped apples, cinnamon, and brown sugar. Baked in a ramekin this sweet pull-apart bread makes the perfect apple filled dessert.
This sweet and buttery apple fritter monkey bread is made with one apple, refrigerator biscuits, and a handful of simple ingredients. It makes a delicious treat or a decadent breakfast to share and can be ready in 30 minutes!
Why We Love This Recipe
I've taken my easy Apple Monkey Bread recipe that serves 6 and transformed it into an Mini Apple Fritter Monkey Bread recipe. In this mini monkey bread, I've stuffed diced apples in between the puffy layers of dough coated with cinnamon sugar.
The apples add a wonderful taste and this dessert completely reminds me of an apple fritter.
How To Make Monkey Bread
For this easy-to-make apple monkey bread recipe, I used a toaster oven. You can also use a conventional oven and keep the temperature and cooking times the same.
I use a package of 10-count refrigerator biscuits and cut each biscuit into quarters.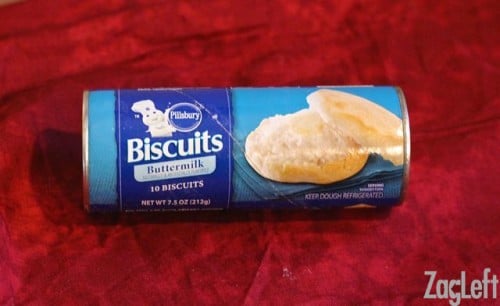 Roll each quarter of dough into a ball.
In a bowl, mix together cinnamon, brown sugar and white sugar.
Melt butter and transfer the cinnamon sugar to a ziplock bag.
Dip each ball of dough into the melted butter, toss them into the bag and line the bottom of your buttered ramekin.
After you've gotten a layer on the bottom, add the diced apples.
Add another layer of buttery, sugared dough over the apples.
Pour a mixture of melted butter, sugar and cinnamon over the top and place in the toaster oven.
Bake the monkey bread in the toaster oven for about 25-30 minutes.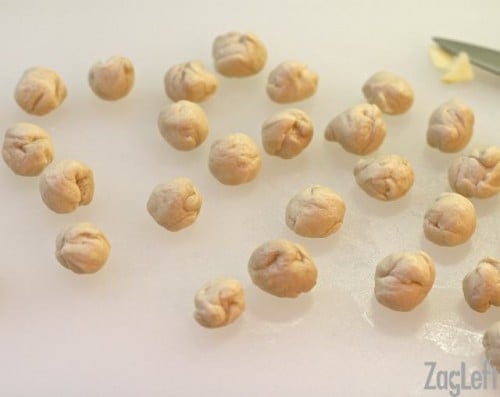 When the Apple Fritter Monkey Bread is done, take it out of the toaster oven and let it cool for a few minutes, then either pull the warm bites of dough from the bowl to enjoy or turn the monkey bread out onto a plate.
When you turn the monkey bread upside down onto a plate, the cinnamon sugar drizzles down the sides and between the layers of dough. It's absolutely delicious!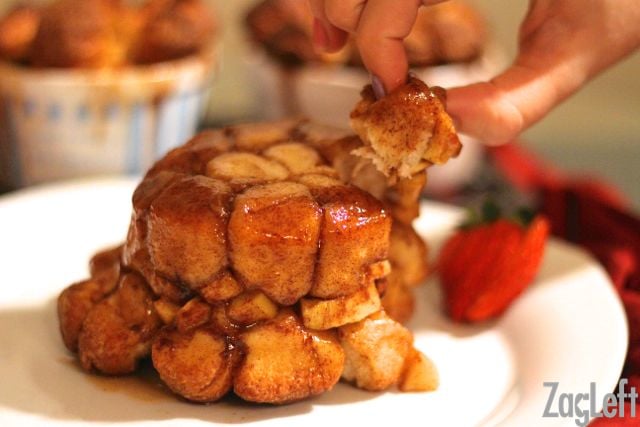 Best Baking Dish To Use
I suggest using either a 5-inch baking dish or a large ramekin. You can find the dishes we recommend on our bakeware page.